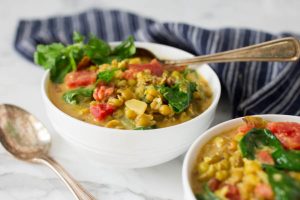 Mung beans are small, green beans which are sweet in taste and are available as sprouts or as dried beans. They are rich in vitamins and minerals and it's one of the best plant-based sources of protein.
Health benefits of mung beans
Wrapped with healthy nutrients
One cup of boiled mung beans contains:
• Calories: 212
• Fat: 0.8 grams
• Protein: 14.2 grams
• Carbs: 38.7 grams
• Fiber: 15.4 grams
• Vitamins B2, B3, B5, B6, and selenium
High antioxidant levels helps to reduce chronic disease and prevent heat stroke
Helps to lower bad LDL cholesterol and reduce heart disease
Mung bean rich in potassium, magnesium, and fiber which reduce blood pressure
Helps to boost digestion
Lower blood sugar levels
Promote weight loss
Support a healthy pregnancy
Ingredients:
Cooked Split Mung Beans – 150g
Oil – 3 tbsp
Chopped Onion – 1
Garlic Paste – 1 tsp
Ginger Paste – 1 tsp
Green Chillies, chopped – 3 or to taste
Cinnamon Powder – 1 tsp
Smoked Paprika – 1 tsp
Turmeric – 2 tsp
chopped Tomatoes – 3
Sweet Potato – 1
Coconut Milk – 1 tin
Spinach Leaves – 100g
Lemon Juice – 3 tbsp
Fresh Coriander – 3 tbsp
Method of preparation:
1 – Using your hands mix thoroughly the chopped beetroots, grated coconut, with turmeric powder, shallots, cumin seeds, garlic, salt, and curry leaves.
2 – Heat oil in a pan. Add the mustard seeds and when it's starting to splutter.
3 – Add the beetroot mixture and sprinkle very little water on the top and cover the pan and cook on low heat, stirring occasionally; After 5 minutes remove the lid and stir-fry for another 5 minutes.
Serve hot as a side dish with rice!