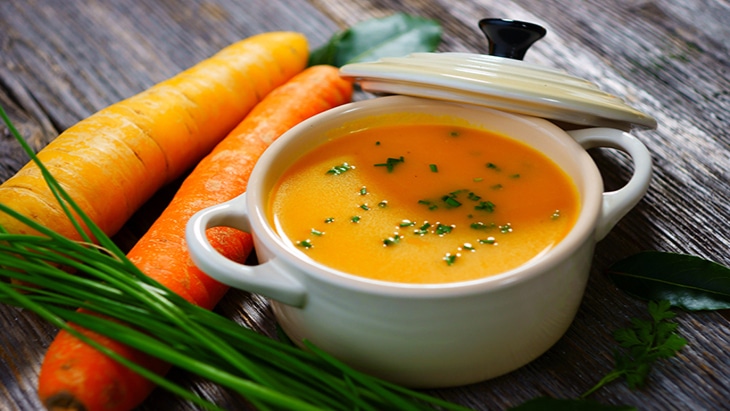 This beautiful bright-yellow soup is delicious, healthy, and easy to make! Carrots are rich source of vitamin A, while cinnamon and peppercorns are good for circulation and digestion.
Ingredients
– Ghee-2 tablespoons
– Chopped onion-2 cups
– Chopped fresh ginger – 4 teaspoons
– Chopped Carrots-7 cups
– Water -6 cups
– Salt or to taste-2 teaspoons
– Cinnamon Stick-1
– Whole Peppercorns-10
– 1 small bunch parsley, chopped
Preparation
1 – Heat the ghee (or coconut oil) in a large pan over medium heat. Add the onion and saute until translucent, about 5 minutes. Add the ginger and carrots and saute frequently stirring for 2 minutes.
2 – Add the water, salt, cinnamon stick, and peppercorns. Bring to boil. Reduce the heat and simmer, covered, until the carrots are tender, about 20 minutes.
3 – Remove the cinnamon stick and some or most of peppercorns, according to your taste.
4 – In a blender , puree until it get smooth. Return the soup to the saucepan and, if needed, reheat until it get hot.
5 – Serve with fresh parsley leaves.