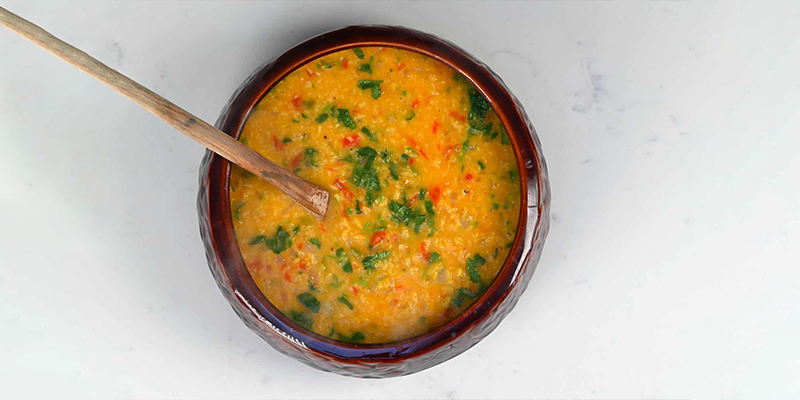 While adding nutrition to your meal, Red Lentil Curry is a vegan traditional Indian curry. Without any dairy or milk, it has a creamy flavour and is a very easy delicious curry that will almost go well with almost anything! It can be even taken as a lentil soup! When paired with a bowl of rice or gluten-free naan, it makes an authentic and protein-packed meal. This dish is easy to prepare and being red lentil as the main ingredient, it offers a lot of benefits. It is gentle on the gut, good for all the three doshas, helps in weight management, improves blood circulation, builds immunity and reduces the risk of heart problems. Let's see how this delicious dish is prepared.
Without further ado, let's see how it's made!
Ingredients
Red Lentils 1 cup, rinsed and drained
Tomatoes 1 cup, cut into small pieces (optional)
Ginger 1 tsp, minced
Onion or Spring Onion 3/4 cup, finely diced (optional)
Garlic 3 cloves, minced (optional)
Cumin 1 tsp
Turmeric Powder 1 tsp
Red Chilli Powder 1 tsp (optional)
Curry leaves 2 twigs
Mustard seeds 1 teaspoon
Salt As required
Water 4 cups
Olive Oil, ghee or coconut oil 2 tbsp
Coconut Milk – 1/2 cup (optional)
Preparation
Heat oil or ghee in a pan and to it, add mustard seeds and wait until it pops. Then add curry leaves and onion. Stir it for about 5 minutes and then add garlic and ginger.
Saute the ingredients until fragrant and then add tomato, salt as per requirement and all the remaining spices.
Stir it for 1 or 2 minutes so that all the spices mix well with the tomato.
Now, pour water into the mixture and after that add red lentils. Cover the lid and reduce the heat to low for the red lentil to boil approximately for 20 minutes or until it's soft.
After 10 minutes of boiling, make sure the lentil does not stick to the bottom of the pan by stirring it. Also, if your curry is turning into a thick mixture, you can add 1/2 cup of water.
Finally, when lentils are fully cooked and tender, add coconut milk for rich flavour and stir it well. Then turn off the heat.
Your delicious mouth-watering red lentil curry is now ready and it would taste great when served with rice or roti.
---
---
---