Find a few healthy dips that can be used as a dip for summer. They will go with vegetable sticks, savory snacks, rice, and Indian breakfast.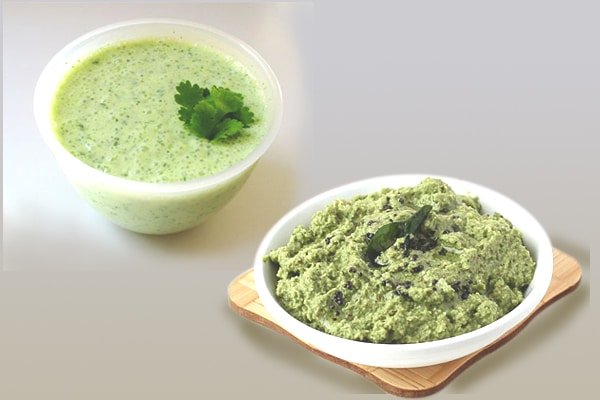 Mint Raita
A cooling side dish for hot days of summer! With Biriyani or Rice, Mint raita is like the icing on the cake. It is so easy to make and doesn't even take 10 minutes to prepare. With Yogurt and Mint leave as the vital ingredients, Mint Raita is a healthy side dish that can help with your digestion. Besides, to prepare it there is no requirement of any special ingredients. This nutritious and mouthwatering dip will make your dishes even more delicious.
Ingredients:-
1¼ cups Plain Yogurt)
1/2 cup loosely packed Mint Leaves
2 tablespoon Chopped Coriander Leaves
Salt to taste
A pinch of Black Salt (optional)
1/2 teaspoon roasted Cumin Powder
1/4 cup finely chopped onion
How to prepare:-
Take 1/2 cup loosely packed mint leaves, 2 tablespoons coriander leaves, 2 tablespoons yogurt and salt in a mixer jar.
Grind it until it becomes a smooth cream.
Take the remaining yogurt in a bowl.
Whip it until it becomes smooth.
Add the mint paste, 1/2 teaspoon roasted cumin powder and a pinch of black salt into the whipped yogurt.
Mix them.
Add Onion to this and mix well. Mint Raita is ready to be served.
Tips:
This is a dip everyone can enjoy during summer.
Coconut Coriander Chutney
This is a popular South Indian dip very refreshing and equally yummy! As of with Mint Raita Dip, it goes with any roasted veggies, snacks or rice.
Ingredients:-
Coconut: One cup
Coriander leaves: A quarter cup
Green Chilli: 1 (Optional)
Red Onion: One, cut into small pieces
Salt: As needed
Lime juice: 1 teaspoon
Water: As needed
Preparation:–
Take all the ingredients and grind into fine paste in a blender. You may make into a required consistency by adding more or less water.
Tips:
Fresh coconut makes the chutney to look and taste better, however you may use any form of coconut.
Thick chutney goes well rice and break fast snacks, and thin chutney goes well with vegetables and dry snacks.
Vata and Pitta people can enjoy this Chutney often and Kapha people can enjoy moderately.