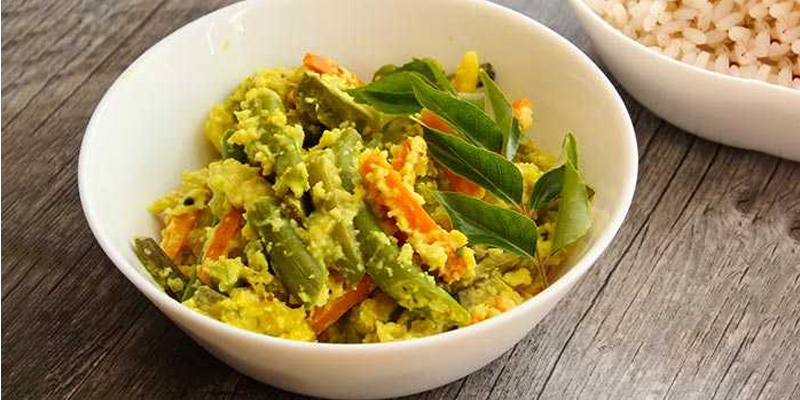 Mixed Vegetable Curry, commonly known as Aviyal, is a south Indian curry used as a side dish for the meals. It's one of the vital side dishes of Kerala Vegetarian Platter known as Sadhya and without it, a Sadhya would be incomplete. This is a great way to add various vegetables- especially if you want them to be cooked- and traditionally this curry is made in the end, using any left over vegetables after making the other dishes. Comprising various vegetables, this is a healthy and in fact, it's good for alleviating diabetes and weight loss. It's rich in vitamins and minerals. What's more, it's delicious!
Now, let us see how it's prepared!
Ingredient
Mixed vegetables (carrot, cucumber, green beans, broccoli, asparagus or almost any fleshy vegetable) 500g
Turmeric powder: 1/2 tsp
Grated Coconut: 1 cup
Green chilly: 2 numbers (if needed)
Cumin seeds: 1/2 tsp
Yogurt : 1 cup (you can use 2 teaspoon lemon juice instead)
Curry leaves: 1 spring
Coconut oil: 1 tbsp
Salt to taste
Preparation
Peel and cut vegetables lengthwise into 2-inch pieces.
Take coconut, green chilly and cumin seeds in a blender. Add some water and blend them into a thick paste. Make sure it's not extremely thick.
Halfcook the vegetables in 1/2 cup water, turmeric powder and salt. It's important to ensure that the vegetables are not overcooked.
Now make a way in middle of the vegetables to pour coconut paste. Close the lid of the pot and cook it for 5 minutes.
Now open the lid and add the yogurt, curry leaves (half) and carefully mix.
Simmer the content until the veggies are properly cooked. Make sure the vegetables are not mashed.
Add the remaining curry leaves and pour coconut oil over the top, mix well and close the lid.
Turn off your stove and keep the pot closed for sometime.
Mixed vegetable curry is ready to be served!
---
---
---