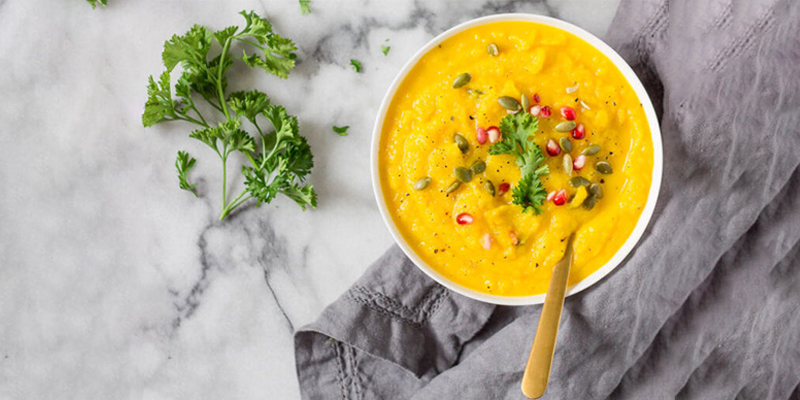 Pumpkin soup forms a thick and creamy dish filled with the natural flavours of Pumpkin and spinach. With pumpkin being the major ingredient, the soup offers many health benefits. In addition, this vegan dish requires very few ingredients and can be easily prepared in time for a perfect detox meal. when eaten moderately, it's gentle on the stomach and helps to balance Vata, Pitta and Kapha. Furthermore, pumpkin and spinach soup serves as a nutritious meal and is filled with Vitamin A,m and iron which help improve immunity and fight infections. Let's see how it's prepared.
Ingredients
Pumpkin- 2 cups, chopped
Vegetable Oil or Ghee – 2 teaspoons
Onion- 1, chopped
Garlic- 1 tbsp, minced
Dress Ginger (grated): 2 teaspoons
Vegetable Broth/ warm water- 4 cups
Salt- as required
Pepper- 1 pinch
Cumin seeds: 2 teaspoons
Fennel seeds: 2 teaspoons
Mustard seeds: 1 teaspoon
Dry pitted Prunes (cut into small pieces) 1 cup
Baby Spinach leaves: 2 cups
Preparation
Heat oil in a pan on medium heat and add onion to it.
Sauté it well until the onion turns transparent. After that, add ginger and garlic to the pan and stir it for 1 minute.
Now, add broth and pumpkin to the pan. Also, add water as required. Increase the heat and bring it to a boil. Cover the lid and let the ingredients cook for about 25- 30 minutes on medium heat. Once thoroughly cooked, mash the pumpkin using a spoon or food processor.
On another pan roast fennel and cumin seeds, once the seeds are turned brown and you can feel the aroma, add warm water or broth.
Add the remaining half of the ginger and allow to boil for a couple of minutes.
Then add prunes and boil for another 1-2 minutes.
Then pour mashed pumpkin to heat and allow to boil.
Once the soup boils sprinkle black pepper and salt as needed.
Now add the spinach leaves and turn off the stove. Stir well and serve hot!
Enjoy the pumpkin soup, it goes well with any good quality bread, rice, quinoa or couscous or almost anything! It's absolutely delicious by itself, I am sure my Panchakarma clients agree!
Things to note
Black pepper, garlic and onion are optional. I don't use garlic and onion most of the time
You can make a similar soup with sweet potato or carrot or a combination of them!
Instead of cooking by boiling, you can cook the pumpkin with onion and other ingredients (except broth) in the oven. Once cooked, mash in a food processor by adding water or broth
---
---
---