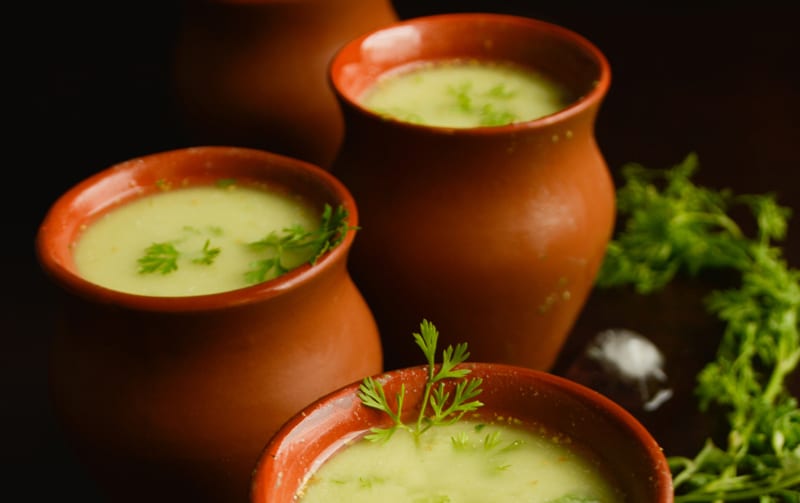 Traditionally spiced buttermilk is an essential for Kerala lunch, which when loose can be used as a drink and when thick, used as a curry. Vegetables like harry melon, cucumber can be added when used as a curry.
During autumn, the nature goes through drastic changes from hot to cold. That makes body difficult to adjust and can easily imbalance vata. Spiced buttermilk is a good recipe during this season. It supports vata, pitta and Kapha; helps to improve digestion and supports with mineral and calcium balance. This recipe has medicinal values in acidity, ulcer, fissure in ano, haemorrhoids, IBS, indigestion and many more disorders.
Serves: 4-5 persons
Ingredients
– Buttermilk – 500 ml/ 2 cups (At room temperature)
– Shallots – 4-5 (optional)
– Chopped fresh Ginger – 2 teaspoons (chopped)
– Garlic: 3 cloves (chopped)
– Turmeric powder – ¼ teaspoon
– Mustard – ¼ teaspoon
– Fenugreek – a pinch
– Curry leaves: 3 springs
– Salt (As per taste)
– Coconut Oil: 2 teaspoons
Instructions
Step 1: Heat coconut oil in a pan, add mustard and fenugreek seeds and close the lid.
Step 2: Once the mustard seeds are popped out, add ginger, garlic, curry leaves, shallots and continue sauté for 1-2 minutes. Add turmeric powder & salt. Mix them well.
Step 3: Then add buttermilk and stir. Stir continuously until the steam comes through the spatula. Stop cooking before it boils. This will take around 5-7 minutes. After removing from stove, stir for a few more minutes and serve warm on cold days and cold on warm days.
Adding vegetables:
Cucumber, zucchini, harry melon, winter gourd, carrot, pumpkin, beet root, etc can be used.if you are looking for a pink 'curry', beetroot would be a good option.
Cut 300 g of vegetables as 2 cm cubes and cook in 300 ml of water until soft. Add to the pan once you have finished step 2 of cooking spiced buttermilk.
Spiced buttermilk can be used as a drink for morning or afternoon tea or as a curry for rice! Yum!!