Looking for an alternative for coffee or tea? Here is an excellent option from ancient wisdom of India.
Turmeric latte is a healthy gluten-free drink that can be prepared in a matter of minutes. While it's a relaxing drink, it also provides nutritional benefits, boost immunity and is best for reducing inflammation. This drink can be had warm or cold based on your preference. Be it any way, Turmeric latte is enjoyable and comforting.
Let's see how it's prepared.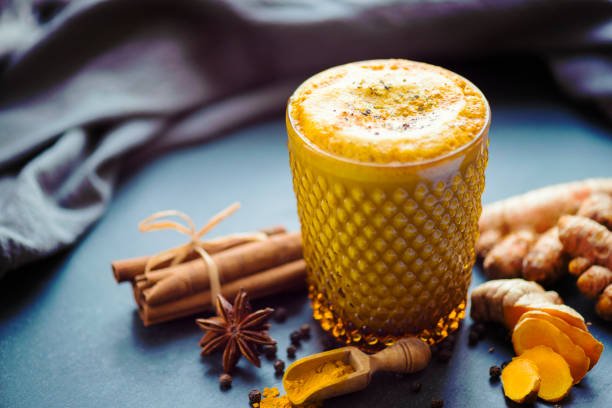 Ingredients
1 cup unsweetened almond milk or coconut milk beverage. You may use fresh cow's milk as well.
1 tablespoon grated fresh turmeric
2 teaspoons pure maple syrup or honey
1 teaspoon grated fresh ginger
Pinch of ground pepper
1 pinch of ground cinnamon for garnish
Preparation
1. Mix milk, turmeric, maple syrup (or honey), ginger, and pepper in a blender.
2. Blend it until it becomes smooth.
3. Now pour the content into a small saucepan and heat over medium-high flame until it steams.
4. Make sure it doesn't get boiled Pour the content into a mug and sprinkle the cinnamon.
There you go! You have got yourself an amazing drink. Enjoy each sip of it!
PS: 1. Black pepper improves the absorption, however if you are intolerant you can try long pepper or completely avoid it.
2. If fresh turmeric is not available, use half a teaspoon turmeric powder instead.