Kerala, South India – December, 2019.
Come and join Dr Shaun Matthews and Rafeena Kidavintavida on this 18 day experience of Ayurvedic healing in Kerala in South India. Escape to a tropical paradise where you can relax, heal and rejuvenate your body and soul.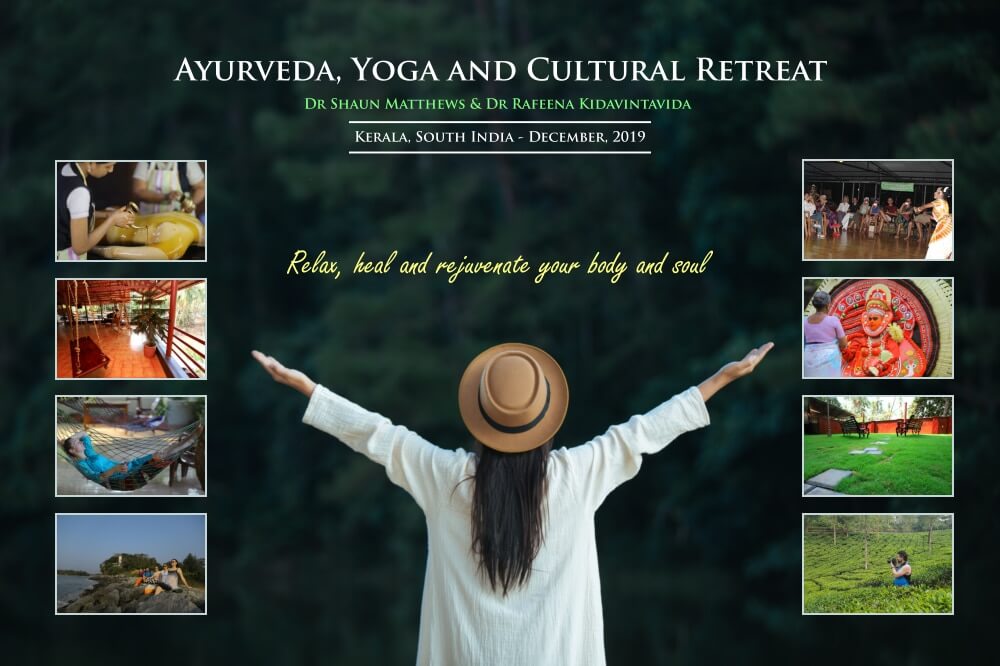 Your retreat guides are Dr Shaun Matthews, a medical doctor, Ayurveda and Yoga therapist based in Sydney and author of 'The art of balanced living' and Rafeena Kidavintavida, an Ayurveda physician and Yoga therapist, now resident in Sydney, but who is originally from Kannur in Kerala.
The retreat program will include various ways to calm and nourish you,including daily sessions of yoga and meditation, Ayurvedic detox and rejuvenate treatments (Panchakarma), Ayurvedic self care and cooking classes as well as local cultural experiences. You will stay at Greens Ayurveda and Yoga Health retreat for two weeks where all your needs will be well catered for.
The warm oil treatments, diet and herbs promote both detoxification and rejuvenation and are supervised by highly experienced local Ayurvedic physicians. Your treatment program will be customised for your individual needs on your first day at the retreat.
During your time at Greens Ayurveda and Yoga Retreat you will also experience folk dances, a local village festival, martial arts, a craft house and there will be two full days of cultural activities.This will include a visit to a spice farm, a tea plantation and a half day cruise of a beautiful backwater and there will be time to enjoy the warm, sandy beaches of the Malabar Coast.
Each day will begin with a yoga class, followed by a delicious breakfast and then oil massage and other Ayurvedic treatments. There will also be educational talks on Ayurveda and time to socialise or rest depending on your inclination. You will get to experience both western and South Indian dishes at meal times, made using fresh locally harvested food and lovingly prepared.
Greens Ayurveda and Yoga retreat is located 45 minutes south of the town of Kannur on the northern coast of Kerala state in South India. A land of coconut palms, beaches, fishing villages and quiet backwaters. It is locally known as "God's own country."
The tour price is inclusive of all your accomodation, food, treatments, cultural experiences, return airfares from Sydney to Kannur, bus outings and transfers.
Cost begins from $5500*


(*Conditions apply)
Register before 15/8/2019 for Early Bird discounts
There are also Companion rates discounts
Last date to register: 30/9/2019

Daily Program
Yoga and Meditation session
Breakfast
Ayurvedic self care and cooking classes*
Lunch
Ayurvedic detox and rejuvenate programs (as per treatment plan)*
Local sight seeing/cultural experiences/shopping opportunities*
Dinner
(*Timing can vary according to day programme)

Package Attractions:
• A 14 day individual Ayurvedic detox and rejuvenation plan
• Daily Yoga and Meditation sessions
• Ayurvedic self care and cooking classes
• Vedic Astrology consultation and educational session
• Delicious South Indian Cuisine
• House boat cruise
• UNESCO listed hill station tour
• Local cultural experiences and sight seeing

INFO NIGHT
Want to know more about the retreat?

Come and join us for a free info nights on
1. Thursday 8/8/2019 7.30-9.30 pm at City Yoga Studio, Suit 203, 127 York Street, Sydney
RSVP essential by 6/8/2019 to Rafeena on 0469 928 491
2. Contact Rafeena for more details on 0469 928 491 (weekdays 6-9 pm, Sundays 12-8 pm) or info@drrafeena.com
Register Now