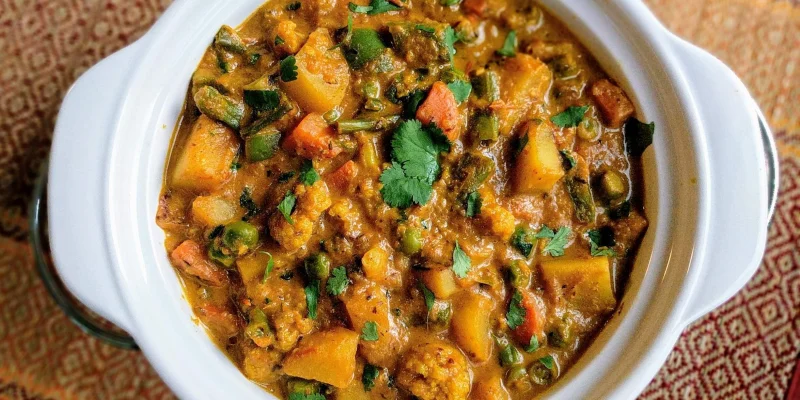 Mixed Vegetable Curry is an Indian dish that is truly healthy as well as delicious. Though this is a curry by its name, it's a dry one with less gravy, and this makes it appropriate to consume as curry, main dish or side dish. Simply put, a versatile dish that can be made with any set of vegetables and can go well with almost any dish. The interesting part is that it's easy to prepare. Every ingredient is easily available, and most of them are the ones we use on a daily basis. So, if you want to quickly make a vegan and gluten-free curry, Mixed Vegetable Curry is what you are looking for. Now, let's see how it's prepared.
Ingredients
3 tbsp (44 ml) olive or coconut oil
1 finely chopped medium onion or spring onion
4 cloves garlic, crushed (optional)
½ inch piece ginger, crushed
1 medium tomato or 3-4 cherry tomatoes, chopped or 1 tablespoon lemon juice
1 small green chili, chopped or half a teaspoon black pepper powder
(optional)
3-4 small carrots, peeled
1 cup (145 g) frozen peas
1 medium to large russet potato or half sweet potato, peeled and cubed into
1-inch pieces
1/2 tsp cumin seeds
1/2 tsp coriander powder
1/2 tsp cumin powder
1/2 tsp turmeric powder
1/4 tsp red chili powder, or to taste (optional)
3/4 tsp table salt or Himalayan Pink Salt, or to taste
1 tbsp dried fenugreek leaves (Kasuri methi), lightly crushed between your
hands
1 tbsp cilantro leaves chopped
Preparation
Pour oil into a non-stick pan and heat it in medium flame.
Chuck onion into the pan and cook until golden brown.
Now, add the garlic and ginger. Saute for 1 minute
Add the remaining ingredients except for Fenugreek Leaves and Cilantro leaves and stir for 5 minutes
Switch the flame to low, cover your pan and cook well for 25minutes. Ensure to open the lid and stir the content occasionally.
After making sure the content is properly cooked, add the Fenugreek Leaves and Cilantro leaves and mix.
Mixed Vegetable Curry is ready to be served! It's as simple as that
---
---
---