Bachelors in Ayurvedic Medicine and Surgery (BAMS), PG Dip in Yoga, Cert in Gynaecology and Obstetrics
Known among her clients as Rafeena, she is one of the most skilled and experienced Ayurveda doctors in Australia and a specialist in Kerala Panchakarma (Ayurveda detox). Rafeena is from Kerala, tropical glowing land on the Southern cost of India known as 'Gods own country'. Kerala is considered as the cradle of genuine Ayurveda, the place which literally never lost continuity of growth of Ayurveda since ancient times. As grown around the rich traditions of Ayurveda, she was passionate about Ayurveda from childhood and selected Ayurveda as her career.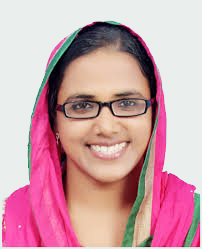 Rafeena Kidavintavida has a sound knowledge of Ayurveda to the core and knows to apply the knowledge in the contemporary era in a very caring and empathetic way so that you find practice of Ayurvedic lifestyle and diet easy and fun. She is very experienced in using the wisdom of Ayurvedic herbal combination and different massage and detox therapies for the healing of the root causes of your imbalance/disease. Being a mother of one boy and a full-time homemaker as well, Rafeena believes that Ayurvedic principles are more and more important in this contemporary world and can help to attain total health for individual, family and society.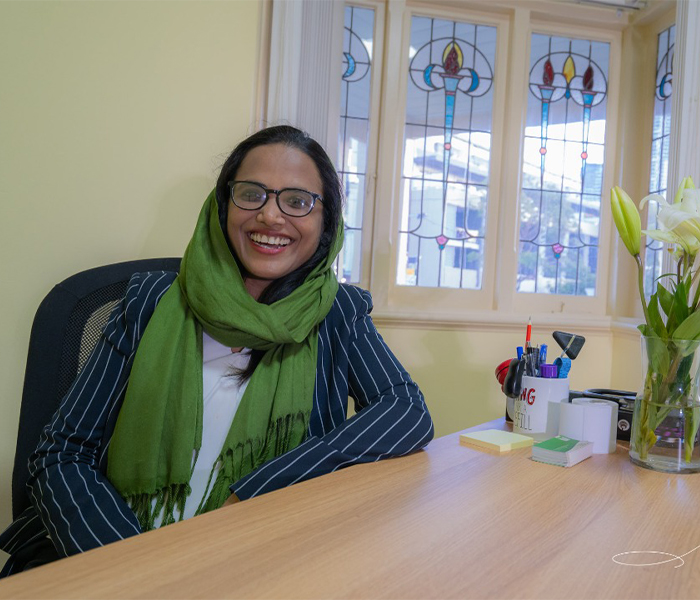 Rafeena Kidavintavida is a graduate on Ayurvedic Medicines and Surgery (6 years course) from Government Ayurveda College, Kannur (Kannur University), Kerala, India and has postgraduate diploma in Yoga from Annamalai University, India and Certificate in Gynaecology and Obstetrics, ISMER (Ideal Society for Medical Education and Research), Mumbai. Immediately after finishing her studies, she was appointed as an Ayurvedic practitioner in the Government Ayurveda College, Kannur where she completed her graduation. This job under the guidance of well-known professors of Ayurveda refined her abilities as a practitioner and brushed up her teaching skills. 
Then she worked in Greens Ayu Hospital, an international institution for Ayurvedic treatments and courses (www.Ayugreen.com) as a doctor in charge of panchakarma. This job gave her the opportunity to deal with clients around the world. After that Rafeena was selected by the State Government of Kerala as an Ayurvedic physician for Ayurvedic primary health care centres and hospitals through a competitive selection process. These are busy institutions having more than 100 patients per day. This opportunity gave her a chance to work close to the society dealing with many complicated cases and being involved in the maintenance of public health. She was awarded by Ayurvedic Medical Association of India (AMAI) and Kerala Government Ayurveda Graduate Medical Officers' Federation (KGAGMOF) separately for the implementation of "Yoga for prevention of lifestyle diseases among senior citizens" as one of the best projects by an Ayurvedic doctor for the year 2010-11 in the district of Kannur, India. Global Ayurveda Festival on Lifestyle diseases in 2012, National Seminar on Oncology in Ayurveda, Seminar on 'Sports Ayurveda' to name a few. She has also published articles about Ayurveda in various scientific and general magazines. 
From 2013, Rafeena Kidavintavida has been providing services from reputed Ayurvedic and Naturopathy clinics in Sydney. She has helped thousands of people to heal their illness from root causes and bring back their total health and wellness. Rafeena specialises on digestive disorders, ano rectal diseases, auto immune diseases, skin disorders, respiratory disorders, spinal health, joint disorders, muscle-tendon diseases, menopause, menstrual disorders, infertility, pregnancy care, prenatal and post-natal care, wellness care and Ayurvedic detox. In July 2020 Rafeena along with other like minded compassionate practitioners established the clinic Liv Ayurveda which is your ultimate destination for quality Ayurveda in Sydney.