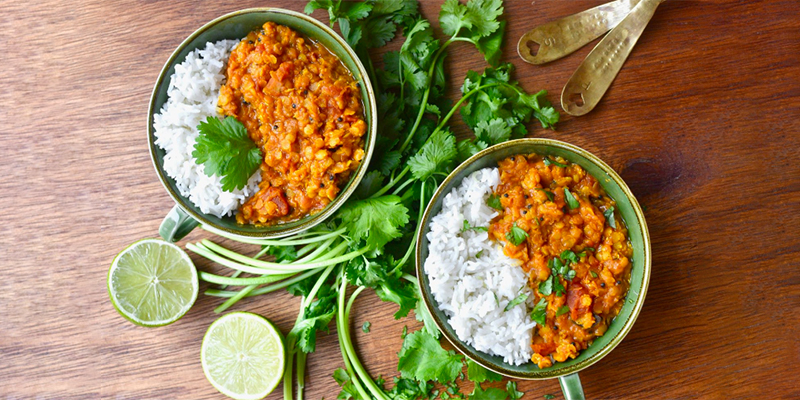 Red lentil dal curry or widely known in India as Masoor dal is generally a vegan and nutritious dish. This flavoury soup or curry consists of a major proportion of red lentils with spices and herbs. Usually served with a bowl of cooked rice, roti or butter naan, this authentic dish offers several health benefits. The nutritional value of red lentils is beneficial for your bones and teeth. This is a lentil that is tridoshic, gut-friendly and a course of protein. Additionally, they prevent diabetes, promote weight loss and help improve digestion. Now, let's dive into the easy preparation of red lentil dal.
Ingredients
Red Lentils – 1 cup, rinsed
Tomato – 2, medium chopped or juice of 1 lemon
Mustard Seeds – 1/4 tsp (optional)
Cumin Seeds – 1/2 tsp
Onion or spring onion – 1 cup, sliced
Green Chilli – 1, chopped (optional)
Dried Red Chilli – 1 or 2 (optional)
Garlic – 4 cloves, chopped (optional)
Ginger – 1 tbsp
Turmeric Powder – 1/2 tsp
Red Chilli Powder – 1/2 tsp (optional)
Corriander leaves – few
Salt – as required
Lemon Juice – 1 tsp
Olive Oil – 1 tbsp
Preparation
1. Add 1 cup of red lentil to a pot with 3 cups of water and cook it with the lid closed for 20 minutes or until the lentils are thoroughly cooked.
Meanwhile, heat olive oil in a pan and when it is warm, add mustard seeds, cumin seeds, dried red chilli, ginger and garlic to it. Saute it till the garlic turns into a golden colour.
2. Now, add onion and green chilli to the pan and saute it well. When the onions become transparent, add tomato. Stir all the ingredients very well for about 3-4 minutes.
3.Now, add turmeric powder, red chilli powder and required salt to the pan and mix it well with the other ingredients. Add the ingredients of the pan to the red lentil in the cooker and mix it well.
4.Reduce the heat and cook it for 2 minutes. Garnish it with some finely chopped coriander leaves and sprinkle lemon juice above.
5. Serve this creamy and delicious dal with rice or roti as per your wish.
Things to remember
1. This dal can be eaten as a soup. Add an extra cup of water while cooking and mash when the lentils are cooked before the spices are transferred.
2. In cold weather thick lentil curry can become set into a jelly easily, so remember to keep it quite loose by adding more warm water!
3. You can make this more nutritious by adding your portion of vegetables. Almost any vegetable or leaves can go into this curry. Sweet potato, beans, asparagus and spinach leaves are some popular ones!
4. Black pepper can be added instead of chillies if you love hot foods and your body doesn't like chillies (remember to use moderately)
---
---
---