This is a warm winter desert balancing Vata and keeping Pitta healthy and balanced. Kheer rice pudding helps to increase appetite and is easy to digest. This is a rich source of carbohydrates and calcium. This Ayurvedic recipe is easy to prepare with the natural ingredients which are really beneficial for your overall health. However if you are Kapha you need to watch the quantity and frequency.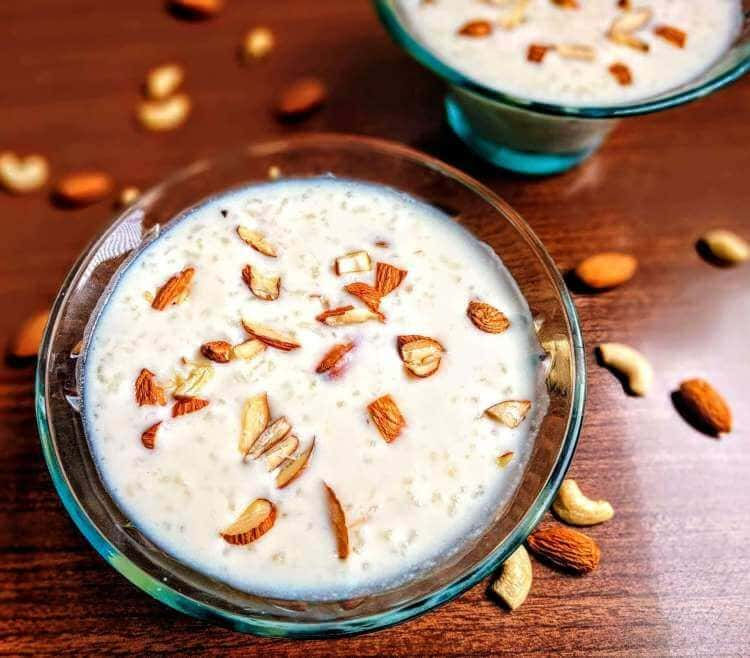 Ingredients:
• Milk – 2 cups
• Warer – 2 cups
• Rice (basmati, Jasmine it Jeera rice) – 1/4 cup
• Sugar – 1/3 cup
• Cardamom powder – 1/2 teaspoon
• cashews – 10 nos
• Chopped pistachios – 10 nos
• Raisins – 2 tablespoon
• Ghee/Butter – 1 tablespoon
Steps to follow:
1.Wash rice 3 times and drain it completely.
2. Boil the milk in a large vessel
3.Cook rice in water and water is almost absorbed, add boiled milk in 2-3 parts. Cook the rice until the rice gets soft and completely cooked. Add more water or milk if needed.
4.Keep on stirring and don't let the milk scorched at the bottom.
5.Add the sugar and keep on cooking until the kheer rice turns thick.
6.Add cardamom powder and continue cooking for 5 minutes.
7.In a separate pan, roast the nuts and raisins in ghee. If needed you can fry the nuts and raisins in ghee. When the kheer rice attains the desired consistency which is slightly runny, add the three quarters of roasted nuts and raisins with ghee into the kheer, mix well and turn off the fire.
8.Once it set apart to cool down, it gets thicken. You can garnish with remaining roster nuts, raising and ghee.
Enjoy the kheer warm. It's really yummy when cooled down as well, however it's better of warm for Vata for winter.