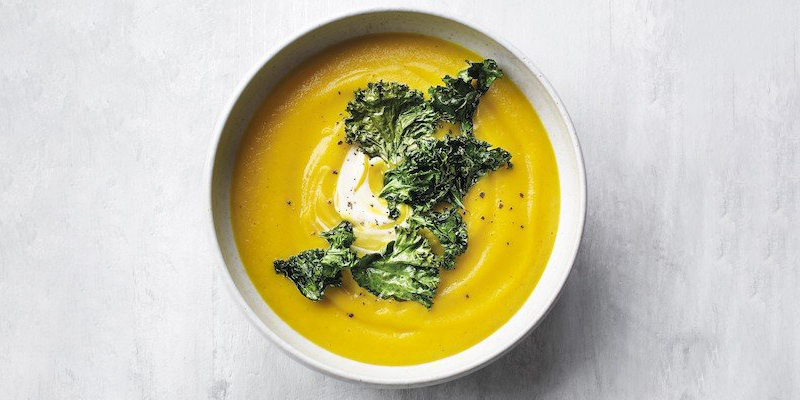 Roasted parsnip and carrot soup is a delicious, creamy and gluten-free vegan soup which comprises a blend of various healthy vegetables. This soup is perfect to get you warmed up on evenings or mornings. The parsnips and carrots combine with onion, garlic and other ingredients that spice up the taste to give this soup a natural taste. The absence of refined ingredients makes this soup a healthy one.
Ingredients
500g Parsnips
300g carrots
1 tbsp maple syrup
3 tbsp olive oil
150g pack kale stalks and leaves separated
2 onions, roughly chopped
2 garlic cloves, crushed (optional)
2 tsp ground cumin
500ml fresh vegetable stock
1-2 tbsp lemon juice
4 tbsp non-dairy yoghurt alternative
Method
Preheat the oven to 200°C. Peel the parsnips and carrots, then cut into approximately 3cm pieces. Add maple syrup and 1 tbsp oil. Attach a parchment paper in the baking tray. Put the pieces of parsnips and carrots along with the oil and maple syrup in the baking tray. Season and roast in the oven for 20 minutes.
While the carrots and parsnips are roasting, take a large pan and heat 1 tbsp oil in medium heat. Now dice the kale stalks and add it to the pan along with onions, garlic and a pinch of salt. Close the pan with the lid and cook for 12 minutes. Ensure you stir it occasionally. Once it's cooked, add the cumin and further cook it uncovered for some more time. Now, toss the roasted parsnips and carrots, stock and, 750ml water into the pan and boil it. Then simmer for 10 minutes.
Meanwhile, turn the oven down to 160°C. Tear the kale leaves into approximately 4-5cm pieces. Add the remaining oil and a few drops of lemon juice. Season and spread in a baking tray. Roast for 12-15 minutes, turning halfway.
Mix the soup in a blender with 1 tbsp lemon juice until it becomes smooth. You can add a bit of water if you want to loosen and reheat. Serve it in a bowl you wish with non-dairy yoghurt alternative topped with the kale crisps and some black pepper.
Cooking Tip
Roasting the parsnips and carrots first is better to intensify their flavour and bring out their natural sweetness.
---
---
---