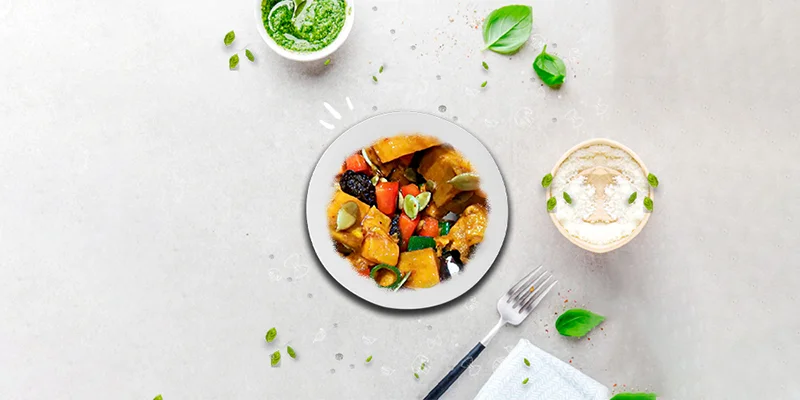 Elephant foot yam or simply Yam is a tuber vegetable filled with nutrients. Originating from Asia, the Caribbean and Africa, Yam is a vegetable recommended to balance Vata during autumn. Furthermore, since Yam is a good source of potassium, fiber and antioxidants, Yam dishes offer benefits like helping improve brain health, enhance blood sugar levels and reduce inflammation. It's highly recommended for Ano rectal diseases. There are several dishes that can be easily prepared using Yam. Now, we have the recipes for two of the most common Yam dishes, Yam Salad and Yam Stir Fry.
Ingredients
Yellow Yam- 2 cups, peeled and diced
Salt- 1 tsp
String Beans – 1/2 cup, sliced
Carrot- 1/2 cup, peeled and sliced
Onion- 1, chopped
Red Capsicum- 1
Spring Onion- 1
Lettuce Leaves- 4 large
Pumpkin Seeds-1 tablespoon
Sesame Seeds- 1 tablespoon
For dressing
Olive Oil- 2 tablespoon
Sesame Oil- 1 teaspoon
Garlic- 1 crushed
Grated Fresh Ginger- 1 teaspoon
Lemon Juice- 2-3 tablespoons
Soy Sauce (for taste)
Black Pepper- 1/2 teaspoon
Raisins- 1 teaspoon
Preparation
1. Take a sauce pot and boil some water.
2. Add the Yam cubes along with salt into the pot. Boil until it becomes tender.
3. Now, take out the Yam and drain the excess water. Transfer it to a bowl.
4. To it, add the sliced carrots and string beans. As per your preference, you can also add other healthy vegetables or fruits like Cucumber, Spinach, etc.
5. After that, add capsicum, spring onion and other ingredients.
6. Now thoroughly mix the ingredients of the dressing and sprinkle that over the salad.
7. Gently mix all the ingredients very well. Finally, garnish it with lettuce leaves.
Your delicious Yam Salad is all set to serve!
Things to remember
1. Capsicum, seeds, black pepper and soy sauce are optional. You can swap with something that suits you better.
2. This salad goes quite well with almost any vegetable oil. You can use only olive oil or sesame oil.
Yam Stir Fry(Kerala Style Chena Mezhukkupuratti)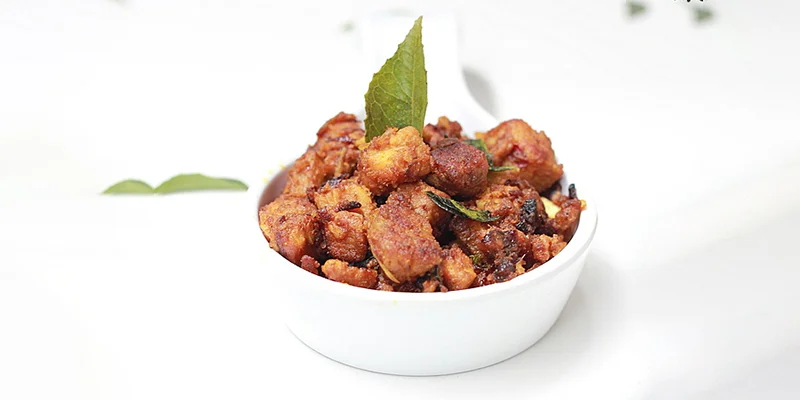 Ingredients
Yam- 2 cups, peeled and diced
Shallots- 1/2 cup, sliced
Garlic – 3 cloves, crushed
Turmeric Powder- 1/4 tsp
Fennel Powder- 1/4 tsp
Curry Leaves- a few
Vegetable Oil- 2 tbsp
Salt- as required
Preparation
1. Take the diced Yam and mix it with salt and turmeric.
2. Now, take a pan and pour the vegetable oil and heat it.
3. When the pan is hot, add the curry leaves and shallots. Saute it until the ingredients turn a brown or translucent colour.
4. Now, add crushed garlic and saute for a few minutes.
5. Then, it's time to add the marinated Yam to the pan. Turn the flame to low and allow it to cook by placing the lid on for 5 minutes or until it's soft and cooked. Remember to sauté in between. Now, add fennel powder and mix the ingredients very well.
6. You may add more vegetable oil to fry the Yam on low flame for another 5 minutes if required. Once they become brown, turn off the flame.
Serve this mouth-watering Yam Stir Fry with a bowl of rice or curd rice.
Things to remember
1. You may cook yam in water first and add to the pan if you prefer to add less or no oil.
2. Paprika or chilli powder can be added to bring some sizzle to the stir fry.
3. This stir fry goes very well with rice or flatbreads.
4. You can add other vegetables like bok choy, carrot, asparagus, etc to turn this dish into a meal.
---
---
---