Veg Kheema can be termed as a 'mock meat' dish due to its resemblance to
minced meat (Kheema) and so the name. Here is a vegetarian, gluten-free and,
keto-friendly dish prepared with grated broccoli and mung bean sprouts.
Being lowin fat, carbs, as well as cholesterol, this dish is healthy and light on the
digestive system. Veg kheema can be served with naans, rice, or eaten as it
is with a salad.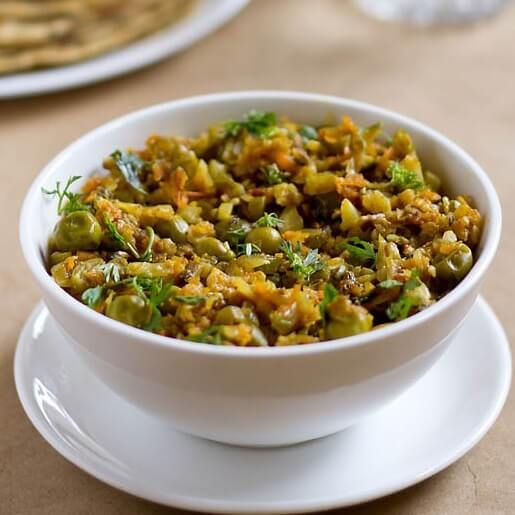 Ingredients
7-8 grated broccoli florets
7-8 chopped french beans
1/2 cup of mung bean sprouts
1 medium-size carrot
⅓ cup green peas boiled
2 medium-size tomatoes finely chopped (optional)
1 medium-size onion or half bunch of spring onions finely chopped
1 green chilli chopped
½ inch ginger and 2-3 garlic made into a paste
1 black cardamom
1 inch cinnamon
1 teaspoon coriander powder
½ teaspoon turmeric powder
½ teaspoon garam masala powder
½ teaspoon red chilli powder
1 to 2 tablespoons sunflower or any preferred oil or ghee
1.25 to 1.5 cup of water
Himalayan Pink salt as required
Instructions
Heat oil in a pan. Add whole garam masala spices – black cardamom & cinnamon.
Add chopped onion. Fry till it becomes light brown. Add the ginger-garlic paste.
Then add tomatoes and all the spice powders. Fry the whole mixture till the oil separates.
Add all the veggies except boiled green peas and sprouts. Add water and salt.
Cover and cook till all veggies are cooked well.
Once the mixture becomes dry, add the green peas and mung bean sprouts and stir.
Check the seasonings.